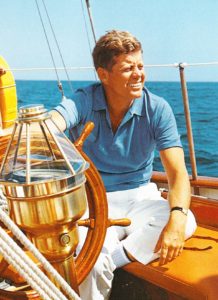 May 29, 2017 marks the 100th birthday of President John F. Kennedy. Millions of Americans may find themselves at this time reflecting on the life of a man whose legacy still shines brightly in our national consciousness. Regardless of politics or party, sailors everywhere share a special connection to President Kennedy. Other presidents have sailed recreationally, of course—Franklin D. Roosevelt, for one—but Jack Kennedy had a lifelong passion for the sport.
Kennedy grew up sailing with his family on the waters off Cape Cod, and in the competitive spirit that he and his siblings shared, took to racing with great enthusiasm. For his 15th birthday, Jack was given the 26-foot Wianno Senior sloop Victura, which he would own for the rest of his life and on which he taught his future wife Jackie how to sail during their courtship. Jack and his older brother Joe also owned Star boats as teenagers, named Flash and Flash II. Sailing Flash II in 1936, Jack and Joe won the Nantucket Sound Star Class Championship, and won the last race of the 1937 Star Atlantic Coast Championship by over four minutes. Jack and Joe would continue sailing as teammates at Harvard, and won the McMillan Cup at Annapolis in 1938. Despite his racing success, Jack's ability as a skipper was once challenged by competitor Jock Kiley, who claimed that Flash II deserved the credit for all its wins more than its skipper. Jack's response was to suggest swapping boats with Kiley in an informal race to settle the matter. After falling behind at first, Jack caught a couple of windshifts to put him back in the lead by the finish, thus quieting any doubts about his skills.
As president, Kennedy's appreciation for fast boats showed in his acquisition of the presidential yacht, the Marconi yawl Manitou, which had previously sailed to a record-setting win of the Chicago-Mackinac Race in 1938. When the 1962 America's Cup commenced in Newport, Rhode Island, he came to watch the racing, and delivered some thoughtful remarks at a dinner beforehand:  "I really don't know why it is that all of us are so committed to the sea, except I think it is because in addition to the fact that the sea changes and the light changes, and ships change, it is because we all came from the sea. And it is an interesting biological fact that all of us have in our veins the exact same percentage of salt in our blood that exists in the ocean, and therefore, we have salt in our blood, in our sweat, in our tears. We are tied to the ocean. And when we go back to the sea—whether it is to sail or to watch it—we are going back from whence we came." Kennedy often sprinkled sailing metaphors into his speeches, and it's clear that this sport that he loved was never too far from his mind, from the nautical décor of the oval office to a sketch of a sailboat he drew on hotel stationery the last night of his life.
Since sailors tend to bond easily through the sport, as a sailor it is easy to have a great appreciation of President Kennedy quite separate from his life in public office. It seems fitting to close with a quote from the man himself, which holds up well to this day as a small testament to his vision and his passion, and which makes one wonder to what degree his love of the sea and of sailing shaped his worldview: "Neither wind nor tide is always with us. Our course on a dark and stormy sea cannot always be clear. But we have set sail—and the horizon, however cloudy, is also full of hope."
Rick Arneson, M.B.A., is the author of Plotting the Course and is a lifelong competitive sailor.