Occasionally debate rises among sailors over what the appropriate term for our sport should be. While "yachting" has been a traditional, all-inclusive term for generations, "sailing" has come into much more prominent usage in the modern era, largely in order to distinguish particular formats of the sport. Out of appreciation for the sport's heritage, I personally don't mind the term "yachting" when it comes to sailboat racing in general. Even so, I never say that I am going "yachting", because it does sound too formal for the athletic and competitive activity that sailing as I know it actually is. As the sailing classes in competition today are both visually and structurally a far cry from the classic yachts of yesteryear, "sailing" has emerged over "yachting" as the more popular term for sailboat racing in many, but not all, cases. While "yachting" and "sailing" can be synonymous terms in some formats of the sport, they can be separate and distinct in others.
"Boating" is another term that is applied from time to time, but I've always found this to be too broad and generic a term for the kind of sailing that I do. I've winced a little when non-sailor friends asked, "You're into boating, aren't you?" The answer is yes, but not exactly. Boating could apply to just about any craft bobbing about on the water, while I race sailboats competitively. Calling a competitive sailor a boater is like calling a race car driver a motorist; it just doesn't quite fill in the picture. I therefore took it upon myself to come up with my own definitions of these three terms to clarify what they mean and how they relate to each other.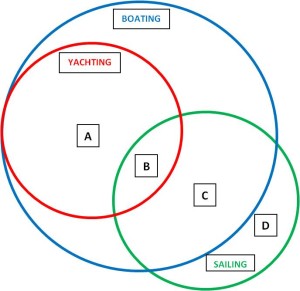 I put together this Venn diagram as a visual aid, but it is not to scale in terms of the size of each group, nor does it necessarily represent any official definition of the sport; it's simply one sailor's perspective on where different incarnations stand. The blue circle represents the world of boating; this consists of most recreational watercraft, including sailboats, motor boats, fishing boats, rowboats, and so on. The red circle represents the world of yachting, consisting of both power and sailing yachts, all of a certain size (in my opinion, 40 feet or longer). The green circle is the world of sailing; this means any wind-powered vessel of any size.
Area A in the yachting circle is inhabited by power yachts, often luxuriously appointed and occasionally massive in size. Area B, where yachting and sailing intersect, is where larger sailing yachts reside; cruising sailboats, ocean racers and America's Cup yachts would fit this category. Area C is where I have done much of my racing in smaller sailboats; within boating and sailing, but outside of yachting. This group could include boats like the one-design classes that compete in the Olympics or pram dinghies sailed by juniors. Area D is a unique zone where sailing is taking place, but not on a conventional boat; for example, landsailing and iceboating, or board sports such as windsurfing and kiteboarding.
There are so many different kinds of watercraft in existence today that it would be impractical to try to definitively classify every sort here. Not all yachtsmen are sailors, and not all sailors have boats. It isn't always easy to designate the proper terminology for each aspect of a sport that continually evolves as technologies and personal preferences change over time. It's almost certain that new terms will be introduced as new formats emerge. For now, though, maybe this little diagram can serve as a temporary tool to classify some of the most popular ways that people are enjoying themselves on the water. I'll be somewhere in the green circle.
Rick Arneson, M.B.A., is the author of Plotting the Course and a competitive sailor with over three decades of sailing experience.