Self-reliance is a value that sailors generally come to appreciate through experience. After all, the ability to handle difficult situations on one's own can make a critical difference when nature throws a curveball. And yet, I can say that I've had to find a balance point in my approach to sailing and to life on land between do-it-yourself cures and reliance on professionals in order to come to the most effective solution to a new problem.
Speaking as a guy as well as a sailor, I like being able to tackle a problem without having to ask for help. We men have been parodied to death for our reluctance to call an electrician or ask for directions. But, as TV and movies have had much fun illustrating, there comes a time when we have to face facts and admit that attempting to fix complicated problems ourselves when we have no capacity to do so simply drags the process out and creates more issues along the way.
Years ago, I decided that I would do my own bottom-fairing job on my Snipe. I read up on the subject, consulted with a few experts, and enthusiastically dove in. However, I lacked professional-grade equipment or experience, so I had to make do with some downgraded techniques. I also made some rookie mistakes along the way and had to start a few steps over. What could have been a one-week project for a pro wound up taking me almost a month. When I finally finished the process, the boat looked exactly the same. All that time and effort, plus more money than I'd initially planned to spend, delivered no discernible benefit at the end.
I've learned plenty from do-it-yourself projects, but we often can't afford the time and hassle that complicated repairs entail in order to have a learning experience. My bottom-fairing job was an experience that shifted my philosophy towards a more practical approach. On one hand, it's perfectly sensible to fix the simple things ourselves, and a person with time, resources, and guidance could gain some valuable experience through a more complex repair job, but there comes a time for everyone when we need a quick and efficient solution to a complex problem that requires the help of a professional.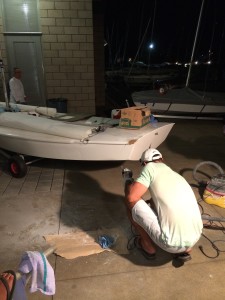 More recently at the Snipe Western Hemisphere & Orient Championship, my boat took a nasty collision from astern that punctured the hull. When I got back to the dock, I got some great tips on how to fix it myself, but a good look at the damage convinced me that this was outside my expertise for boatwork and that I'd need to bring in a pro. At such times, it's great to know people in the business. It just so happened that a fellow competitor (and expert in fiberglass repair) at this regatta was on hand and willing to patch up my boat. In a few hours, he had a solid and permanent solution in place that allowed me to get back on the water the next day without concern over leaks or structural integrity.
Recognizing my limitations as well as my skills when it comes to solving such problems either on the water or around the house has saved me a lot of time and effort over the years. In the big picture, it's also saved some money by getting things done right the first time. I'm always happy to handle the more straightforward situations myself, but there's a reason we have professional electricians, plumbers, doctors, lawyers, accountants, mechanics, and so on; they provide services in their areas of expertise so we can stay focused on our own areas of expertise.
Now, when something big breaks and needs a quick repair (be it watercraft or water heater), I make sure that I'm honest with myself as to whether the fix is going to be too complex for me alone. Self-reliance is important to pursue in our lives, but sometimes for the sake of practicality, finding the right person for the job is where our contribution to the solution ends.
Rick Arneson, M.B.A., is the author of Plotting the Course and a competitive sailor with over three decades of sailing experience.